Shop our exclusive Manuka range!
What our customers say
Three generations of the Bray family have built Airborne's spirit of creativity, flexibility and enthusiasm. But the most important part of that journey has been YOU. We love your feedback, your intriguing questions that make us think, and your loyalty to our brand. Thank you, your communicatons keep us smiling...
My mom is 72 and she is an avid tea drinker and honey addict for her entire Polish life. She tried your honey the other day and she said to me, Suzanne that is the BEST honey I ever had in my 72 years.

Suzanne
As a user of Airborne Honey I want to congratulate you for reaching 100 years of producing fine honey. Manuka is tops of course but I also enjoy Manuka with Wildflower.

Doreen
As a Kiwi who has lived in Asia for many years, I would like to say a big thank you for your Creamed Honey, which has always been a favourite of mine.

Mike
A friend of mine gifted me a jar of Airborne Kamahi Honey and I must tell you that it is the best honey I have ever tasted. I will not use it on/in anything. Instead, I start each day with a small spoonful of the honey by itself. The flavours in this honey are spectacular!

Sandra
This is the nicest honey. Bush Honey on toast, in stir fry marinade, or in cakes instead of sugar. Will continue to buy it and recommend to others.

Ruth
I am addicted to Airborne Honey, especially the blend of Bush Honey with Manuka Honey. The best ever honey jar you could select in any store.

Mohamed
A friend of ours recently took a trip to New Zealand with her family and they were kind enough to bring back some of your delicious honey to us in Texas. We absolutely LOVED it - best honey I have ever had.

Susan
I just picked up a jar of your Manuka Honey in our local supermarket. We stirred some in our tea this morning and it is very unique tasting - not as overwhelmingly sweet and much more complex tasting - much like a fine wine!

Lyn
The Airborne Standard
Why Airborne? Honey's just honey, right? - er, no, it's not! Sometimes it's labelled 'honey' but how do you know what floral source or even what country it actually comes from? When you buy Airborne, you know EXACTLY where it comes from and that it is what it claims to be. We are 100% sure that all honey that leaves here is - Honest, Undamaged and Traceable. NO Compromise - EVER. You have my personal guarantee.

Peter Bray
Honest
Unfiltered Honey: We measure the pollen percentage and total pollen per 10g.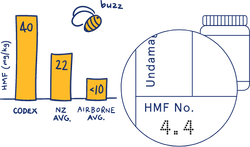 Undamaged
Verifying the honey is undamaged by heat: We measure the HMF level as mg/kg.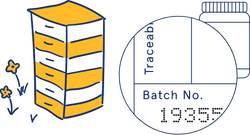 Traceable
Scan our TraceMe QR code to check the variety, quality and origin of the honey in your jar.