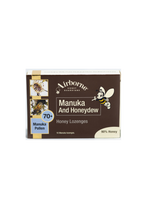 16 single lozenges per pack.
Made almost entirely from Manuka  and Honeydew honeys, these lozenges are unlike anything you've ever had before. The unique patented process of making these lozenges seals in the flavour and goodness of these superb honeys.
Airborne Health Honey Lozenges are effective at soothing sore throats, coughs and colds: in a recent study, honey was shown to be more effective at soothing coughs than cough medicine. They're also a lot safer than other lozenges as they don't contain any chemical ingredients, many of which have limited or no research on their safety once consumed.


Airborne Health Honey Lozenges are:


The only lozenge that is made almost entirely from honey – other 'honey' lozenges often contain sugar or artificial ingredients as their first/main ingredient.
Made with a patented process, only Airborne Health Antibacterial Honey Lozenges contain honey that is dried, not boiled, which retains the natural health properties of the honey.
Storage
Store below 20°C. If product becomes deformed due to high temperatures, place in warm area with foil side up, then place in refrigerator.
Nutritional Information_
Servings Per Package: 16
Serving Size: 2.8g

*Average values
| | | |
| --- | --- | --- |
| | Quantity Per Serve* | Quantity Per 100g* |
| Energy | 43.6kJ (10.4 Cal) | 1556kJ (0.46 Cal) |
| Protein | .1g | .46g |
| Fat, total | 0g | 0g |
| - saturated | 0g | 0g |
| Carbohydrate | 2.6g | 91g |
| - sugars | 2.5g | 89g |
| Sodium | 0.56mg | 20mg |